Are you a solo artist, a band, or an ensemble ready to elevate your music's presence on renowned streaming platforms like Spotify, Apple Music, and Tidal? Or perhaps, you're an aspiring entrepreneur aiming to inaugurate your own music label?
In either scenario, it's likely that DistroKid has surfaced in your search for a reliable music distribution service, offering a competitive DistroKid price that aligns with your budget.
Navigating through DistroKid's diverse pricing options and the array of "extras" can be intricate, raising questions about the optimal choice tailored to your unique needs and aspirations.
In this article, we meticulously unravel the nuances of DistroKid's pricing models, hidden costs, and additional offerings. Our objective is to equip you with insights and clarity, empowering you to make an informed decision that resonates with your musical journey and financial considerations.
Key Takeaways
DistroKid is a popular choice for indie artists looking to distribute their music online.
The platform offers budget-friendly pricing structures with diverse features for different artists.
The Musician Plus Plan offers a good balance of cost and features.
The Ultimate Plan is ideal for record labels or managers with multiple artists.
YouTube Content ID & YouTube Creator Music is a notable extra but is most beneficial for artists with a large audience.
DistroKid simplifies music distribution across major streaming services.
The platform's customer service is known for its responsiveness and efficiency.
Where To Begin?
You're ready to take the plunge and introduce your music online, and DistroKid has caught your attention.
Excellent decision!
Yet, navigating through the financial aspects and discerning the value you're receiving can be a bit intricate.
DistroKid presents a variety of pricing options and additional features, making it crucial to grasp exactly what each entails and identifying the one that aligns with your specific requirements.
Before we delve into the intricate details of pricing and additional offerings, let's demystify what DistroKid is all about and its limitations:
DistroKid isn't a platform for music creation or promotion, and it doesn't extend services like artist grooming or extensive music marketing.
At its essence, DistroKid specializes in distributing your music online to digital stores and streaming services, managing royalties, processing payments, and offering rudimentary data and insights on your music's performance.
Armed with this clarity, we're poised to explore the diverse pricing structures and the plethora of additional features on offer.
Pricing Tiers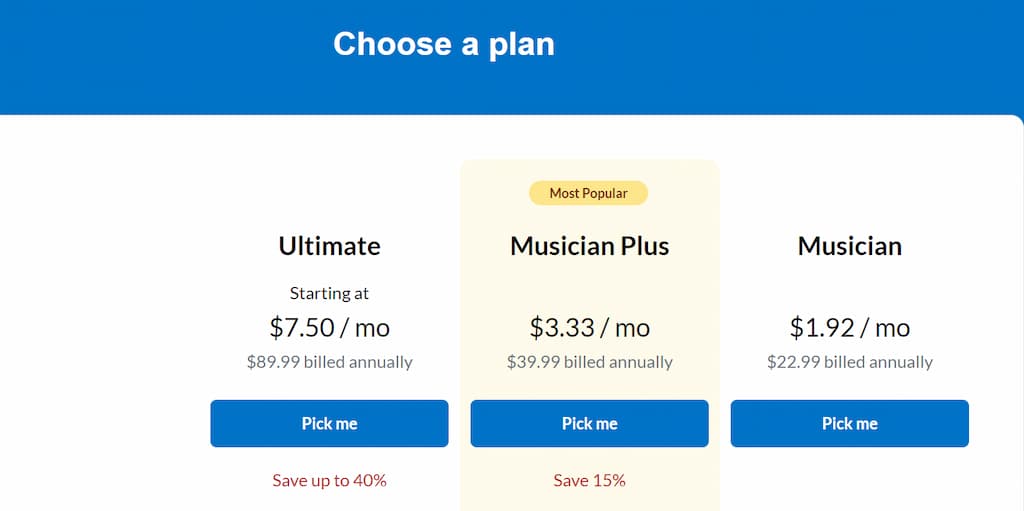 DistroKid presents a variety of pricing structures, each tailored to accommodate the diverse needs of musicians from various walks of life.
Operating on a SaaS (Software as a Service) model, DistroKid requires an annual subscription, granting continuous access to its services.
Here's a detailed look at the three primary subscription levels:
Musician Plan

At $22.99 annually (equivalent to $1.92 monthly), the "Musician Plan" is DistroKid's entry-level offering.
This plan allows artists to upload unlimited songs and lyrics, retain the entirety of their earnings, and avail of basic customer support. A verified checkmark on Spotify is an added bonus. However, this plan is limited to a single artist name.
It's a cost-effective gateway for solo artists to distribute their music online globally and collect royalties.
Musician Plus Plan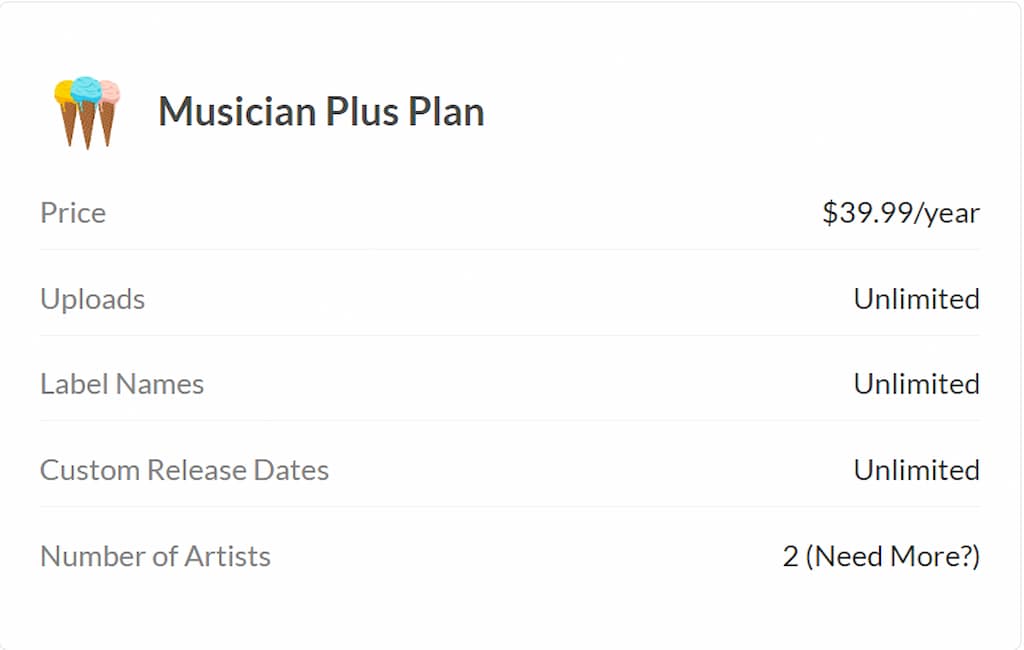 For those desiring enhanced features and adaptability, the "Musician Plus Plan" is available at $39.99 per year, translating to $3.33 per month.
This tier encompasses all features of the Musician Plan, augmented with the ability to distribute music under two artist names, and the flexibility to personalize the label name, release and pre-order dates, and iTunes pricing. Subscribers also gain access to daily sales statistics and synced lyrics for Instagram, all while enjoying a 15% saving compared to the basic plan.
The additional $17 investment yields valuable marketing and customization tools, making it a favored option for many.
Ultimate Plan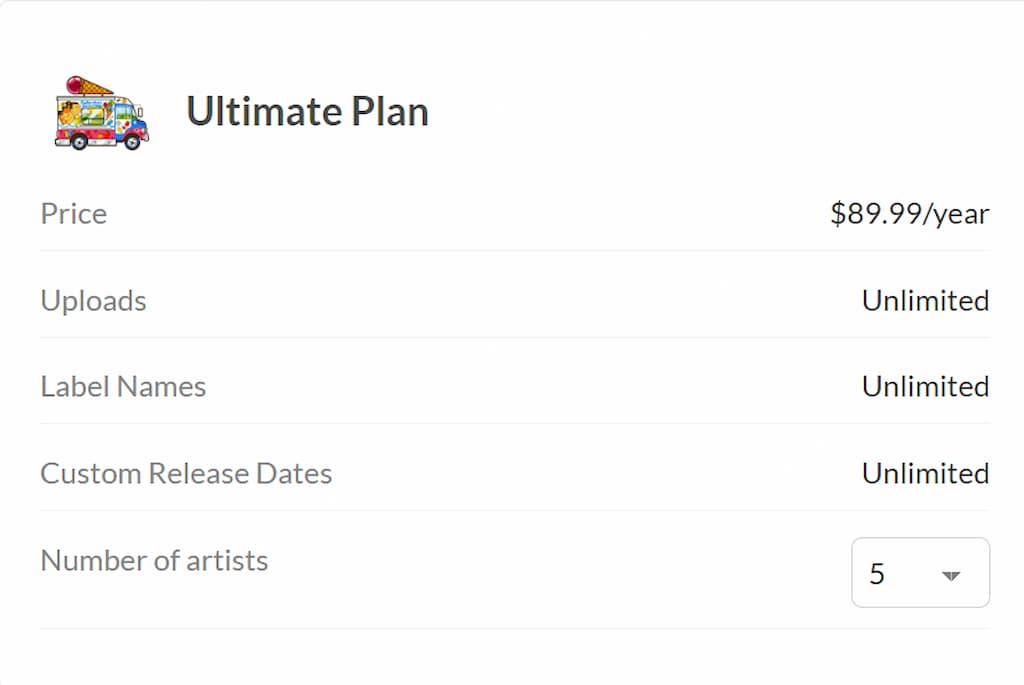 For aspiring label owners or those managing a roster of artists, the "Ultimate Plan" is the pinnacle of DistroKid's offerings.
Starting at $89.99 per year ($7.50 per month) for up to five artists, subscribers enjoy all the Musician Plus features, with the added ability to distribute music for 5-100 artists, offering substantial savings of up to 40%.
Here's a detailed pricing structure for various artist quotas under the Ultimate Plan:
5 artists: $89.99/year (22% saving)
10 artists: $157.99/year (31% saving)
20 artists: $269.99/year (41% saving)
50 artists: $674.99/year (41% saving)
100 artists: $1349.99/year (41% saving)
This plan is tailored for scalability, offering comprehensive features and significant savings, making it an optimal choice for labels and managers overseeing multiple artists.
Additional Offerings
In today's world, where "Software as a Service" is a norm, we are all too familiar with the concept of "Subscription Tiers."
While DistroKid's subscription plans are quite straightforward, the complexity arises when we delve into the hidden charges and additional offerings.
As you proceed with the steps to release music, you'll encounter an "Extras" window at the final stage, presenting several options.
This often catches many off guard, as it appears post-subscription payment and right before the song release.
Fortunately, all these extras are optional and not mandatory.
DistroKid's attempt to offer additional services is understandable, given the affordability of their subscription plans. However, a prior heads-up about these extras would be appreciated.
We at Sound Tech Insider are committed to bridging this information gap, ensuring you are well-informed and not caught off guard by unexpected costs.
Here's a breakdown of the 7 Extras available:
Discovery Pack ($0.99/yr)
For an annual fee of just $0.99, the Discovery Pack ensures your music is indexed and recognized by significant global databases. This service facilitates your music's recognition by Gracenote and ensures it's registered with SoundScan for Billboard chart eligibility. Your credits are also officially listed in Jaxsta, and audio fingerprinting is provided through ACRCloud for enhanced rights protection. It's a cost-effective option for ensuring your music gains the recognition it deserves.
YouTube Content ID & YouTube Creator Music ($4.95/yr + 20% of YouTube ad revenue from detected matches)
At an annual cost of $4.95, this extra is instrumental for artists aiming to earn from their music's presence on YouTube. DistroKid ensures your music is added to YouTube's Content ID database and scans for matches continuously. If your music is identified in any YouTube content, the ad revenue is directed your way. The YouTube Creator Music feature allows YouTube creators to license your music, with DistroKid retaining 20% of the ad revenue from detected matches.
Store Maximizer ($7.95/yr)
Priced at $7.95 per year, the Store Maximizer ensures your music is automatically distributed to emerging online stores and streaming services. This service eliminates the hassle of manual uploads and keeps you informed each time your music is added to a new platform, offering both convenience and peace of mind.
Social Phone Number ($12.99/mo)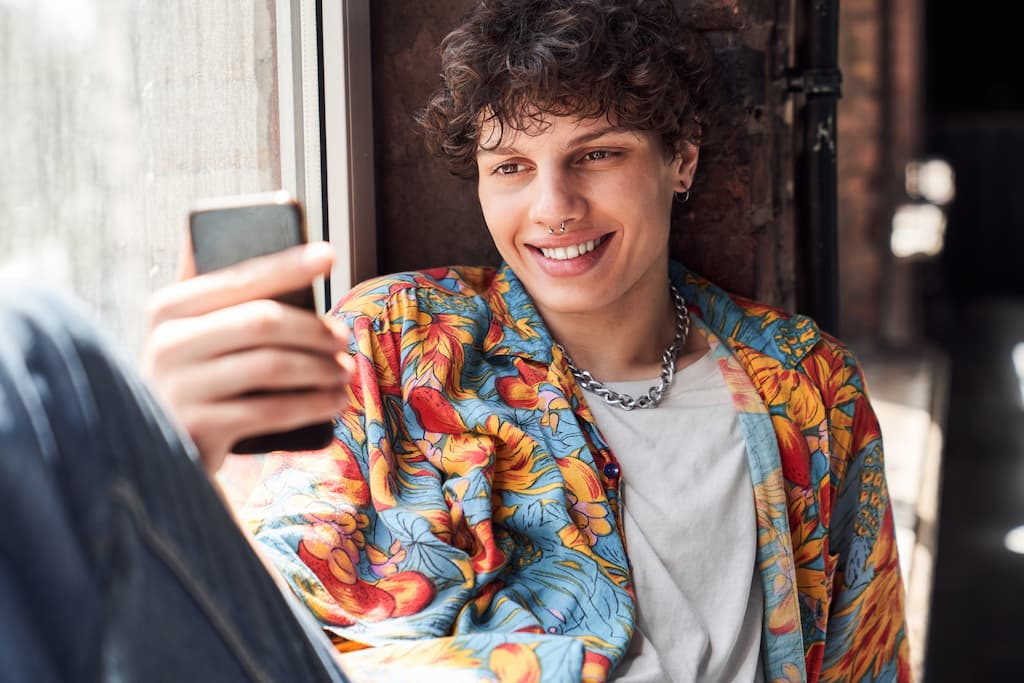 For $12.99 monthly, artists can obtain a dedicated U.S. phone number, enabling direct text interactions with fans. This service fosters a more personal connection, enhancing fan engagement, given the impressive open-rate of text messages compared to social media posts.
Loudness Normalization ($2.99 one-time fee, non-recurring)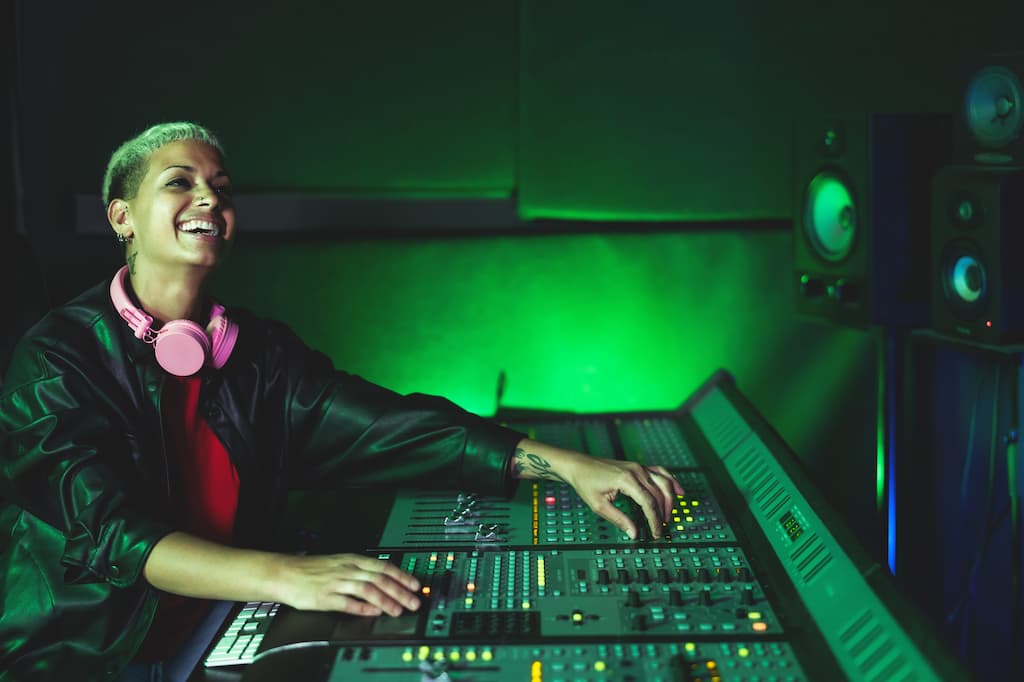 A one-off payment of $2.99 avails the Loudness Normalization service, ensuring your music's volume is optimized for streaming platforms. This service prevents potential distortion or clipping issues, serving as a safety net for artists uncertain about their music's audio quality.
Tidal Master/MQA ($8.99 one-time fee, non-recurring)
For a one-time fee of $8.99, DistroKid will encode your music using MQA technology, earning it the "MASTER" badge on Tidal and ensuring enhanced audio quality across various platforms. This extra is particularly beneficial for artists targeting Tidal's audience, known for its focus on high-fidelity audio.
Leave a Legacy ($29.00 one-time fee, non-recurring)
A one-time investment of $29 ensures that your single remains accessible indefinitely, even if your DistroKid account is canceled. This service is particularly appealing for artists looking to preserve their musical legacy for future generations, with the added benefit of continuous royalty accrual.
Each extra is designed to cater to specific needs and is worth considering based on your individual requirements and audience.
Deciding on the Optimal Choice
Navigating through the myriad of Extras and varied pricing plans offered by DistroKid, a prominent music distributor, can initially seem daunting. With options to upload music seamlessly and the allure of unlimited song uploads, it's essential to make an informed choice.
Ultimately, the selection boils down to your individual requirements. Here are some key factors to weigh as you decide on the most suitable DistroKid pricing plan, amidst the various DistroKid offers:
Artist Count
For individual artists, the ability to upload music with ease makes the Musician plan often suffice. But for bands or artists juggling multiple projects, the allure of unlimited music uploads makes the Musician Plus or Ultimate plan more appealing, offering support for additional artist names.
Customization Capabilities
The Musician Plus and Ultimate plans are tailored for those desiring enhanced control over aspects like release dates, label names, and pricing structures, offering a more personalized music distribution experience.
Sales Insights
For artists keen on monitoring their sales metrics daily, the advanced plans (Musician Plus or Ultimate) provide detailed, daily sales statistics, offering insights to inform marketing and sales strategies amidst the world of unlimited song uploads.
Instagram Promotion
If Instagram is a pivotal element of your music promotion strategy amidst the unlimited music landscape, consider the plans that include synced lyrics for Instagram, enhancing the visual and auditory experience for your audience.
Long-term Engagement
For those committed to a long-term partnership with DistroKid and looking to maximize the benefits of DistroKid offers, exploring annual billing options can unlock additional cost savings, optimizing the budget without compromising on features.
Additional Features
DistroKid's Extras, like YouTube Content ID and Tidal Master/MQA encoding, are available at an additional cost. Assess the potential benefits of these features in the context of your music distribution and audience engagement strategy amidst the world of unlimited song uploads.
In essence, aligning your specific needs, promotional strategy, and budget with the features offered in each plan will guide you to an informed decision, ensuring you extract maximum value from your DistroKid subscription in the world of unlimited music.
The Best Option
The Musician Plus Plan often stands out as the most balanced option for independent artists. It offers a harmonious blend of affordability and feature richness, allowing artists to upload unlimited songs, customize their releases, and gain insights into their music's performance. The plan's adaptability makes it a favorite among artists seeking to strike a balance between cost and value.
Suggestions
Evaluate Your Needs: Begin by assessing your specific needs, the volume of music you plan to release, and the level of customization and control you desire over your releases.
Consider the Extras: While the extras are optional, evaluate each to determine its relevance and potential impact on your music's visibility and revenue. The YouTube Content ID & YouTube Creator Music add-on can be particularly beneficial for artists with a significant online presence.
Long-term Engagement: If you're looking at a long-term engagement, consider the annual billing options for additional savings. Assess the scalability and features of each plan to ensure it aligns with your growth trajectory.
Explore the Ultimate Plan: For labels or managers overseeing multiple artists, the Ultimate Plan offers scalability and additional features, making it an optimal choice for streamlined music distribution.
Stay Informed: Keep abreast of DistroKid's evolving offerings. The platform is dynamic, with new features and options potentially enhancing your music distribution experience.
In wrapping up, DistroKid's allure lies in its simplicity, affordability, and the freedom it offers artists to reach global audiences via major streaming platforms. By aligning your choice with your artistic and financial contours, you're well-positioned to amplify your music's reach, engagement, and revenue in the digital space. Make an informed choice, and step into a world where your music resonates across borders and barriers.
Frequently Asked Questions
How much does DistroKid cost?
Musician Plan: This plan costs $22.99 per year.
Musician Plus Plan: Priced at $39.99 per year.
Ultimate Plan: This plan is available for $89.99 per year for up to five artists.
How much DistroKid pays per 1,000 streams?
DistroKid doesn't pay per stream directly. The payment artists receive depends on the streaming platforms where their music is played. Each platform has its own payout rate per stream, which can vary widely. DistroKid distributes the music to these platforms and passes 100% of the earnings from these platforms to the artists. The actual amount an artist earns per 1,000 streams can vary based on the platform and the region where the music is streamed.
Is DistroKid owned by Spotify?
No, DistroKid is not owned by Spotify. However, in October 2018, Spotify announced that it had made a minority investment in DistroKid. This investment facilitated a partnership that allows artists using Spotify for Artists to seamlessly distribute their music to other platforms through DistroKid.
Does DistroKid pay 100%?
Yes, DistroKid pays 100% of the earnings from streams and downloads to the artists. DistroKid does not take a cut of the artists' royalties. The artists are required to pay the annual subscription fee for the service, but they keep 100% of the earnings their music generates on the various streaming and download platforms.